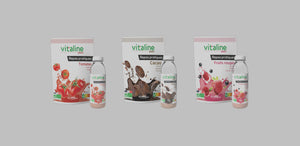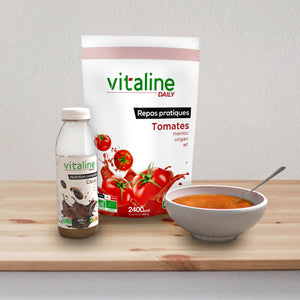 Daily Bottles and Pouches
Maximize your daily life, healthily.
Vitaline Daily is a complete ready-to-eat food with excellent nutrition.

The tonic contribution comes from the quality of our ingredients (Organic), rigorously selected for their excellent nutritional qualities. Designed for a long term balance, Vitaline Daily helps you to be in better shape every day and to gain vitality, easily.
Our formulas to rehydrate are available in two types of packaging: bottles and pouches.
The bottles are an individual format of 400 kcal. In the office, on the road, on a hike, in your bag or glove compartment: it's super practical to take with you in any situation. Ready in 1 minute. They are made of 50% recycled PET and 100% recyclable.
The 6 portion bags are compact, economical, convenient to consume at home or while hiking and 100% recyclable.
The benefits of our formulas to rehydrate
Super digestible
Complete profiles
Excellent nutrition
Make your choice among our various formulas