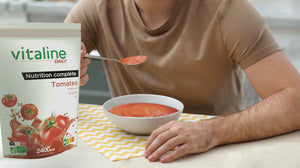 Our diet: a damning observation
In our daily life full of ambitions, eating well is an omnipresent obstacle.
Our meals on the go don't work and yet we have no choice but to eat well in order to be in good shape . Myriads of "foodtech" have emerged in recent years: on delivery, online grocery, alternative proteins, drives and all-in-one meals…
Concretely, what does it give these products? Super-sweetened or watered down, difficult digestion, "nutritionally empty" formulas, low in micronutrients, super-refined ingredients… And a poor diet is felt by general fatigue, digestive discomfort, weight gain, and in the worst case, deficiencies and health impacts .
Where are the solutions with a significant impact on nutrition?
Vitaline's story
It was in 2015 that Sébastien and Alexis started working on Vitaline. Friends since their studies in engineering school, they are frustrated by the quality of the meals to drink on the market.
Thanks to demanding sourcing , cutting- edge formulations and scientific processes, they are betting on providing nutritionally excellent and ready-to-eat foods. By having the products tested, they verify a real positive impact on health and a saving of time in the daily lives of consumers.
Today, Vitaline is ready-to-eat products, super practical ; to drink or in bars and of excellent quality : to allow you to be always ready , without compromising nutrition.
Discover the beginnings of Vitaline in pictures
Always ready to excel!
Vitaline has changed the lives of thousands of people…
In the long term, we have the ambition to develop a multitude of innovative , super practical and excellent quality solutions; always at contained prices to make excellent nutrition even more accessible.
It is for you and thanks to you and your many feedbacks that we are taking the steps.
Vitaline, always ready.