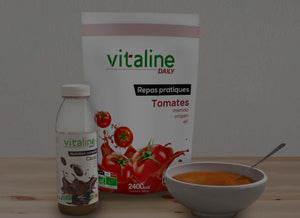 Preparing a Vitaline
it's super simple!
Vitaline can be prepared in several ways: find the one(s) you like!
4 simple steps
for a bottle ready in seconds!
1. Flip over to loosen/air powder
2. Fill to the top
3. Shake upside down
Make sure that the background is well peeled off, if not, shake again!
4. It's ready!
...Yum !
4 simple steps for a delicious bowl :)
1. Pour the formula at your convenience
2. Add water, hot or cold
Go a little at a time to adjust the consistency.
3. Mix actively with a spoon
to avoid lumps
4. Let's go !
And if you want, add the ingredients that make you happy!
Dried fruits, seeds, herbs… Vitaline is a food with excellent nutrition, do not hesitate to add to it.
Vitaline is also used as an ingredient
Do not hesitate to test Vitaline as a nutritionally excellent base in your other preparations: gratins, pancakes, smoothies...