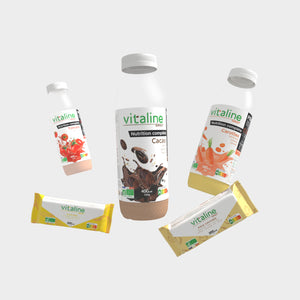 The resolution that you will keep with Vitaline is to succeed in eating healthily and efficiently over the long term.
It's simple, super practical and excellent nutrition, the reference in Europe.
Practical formats in any situation
As a snack at the office, in class, in a meal, to eat on a hike, on a trip: bottles and bars are practical to take with you in any situation.

In bottles or in bars, ideal for all or part of breakfast.

Ready in 1 min!
Exceptional nutritional quality
Our rigor in sourcing and our cutting-edge formulations make Vitaline products the reference in Europe. And it shows on our labels and unparalleled nutritional profiles.
Quality and nutritional performance is our promise.
Vitaline, an effective diet to start the year off right
✓ The true taste of the ingredients

✓ Preservable for up to 1 year

✓ In 200 kcal and 400 kcal formats, easy to adapt to your daily intake

✓ Varied uses: to drink hot or cold, smooth in a bowl or to incorporate as an ingredient in your preparations
2022, Always ready.
Try the Discovery Pack for 29.99€
6 bottles and 4 bars with various tastes to discover the one(s) that suits you.
We offer delivery!